⭐Fast Returns>> 100% Money Back Guarantee.
🏆Free One Years Product Warranty
---

During the price offer period, each customer can only purchase one item at a time.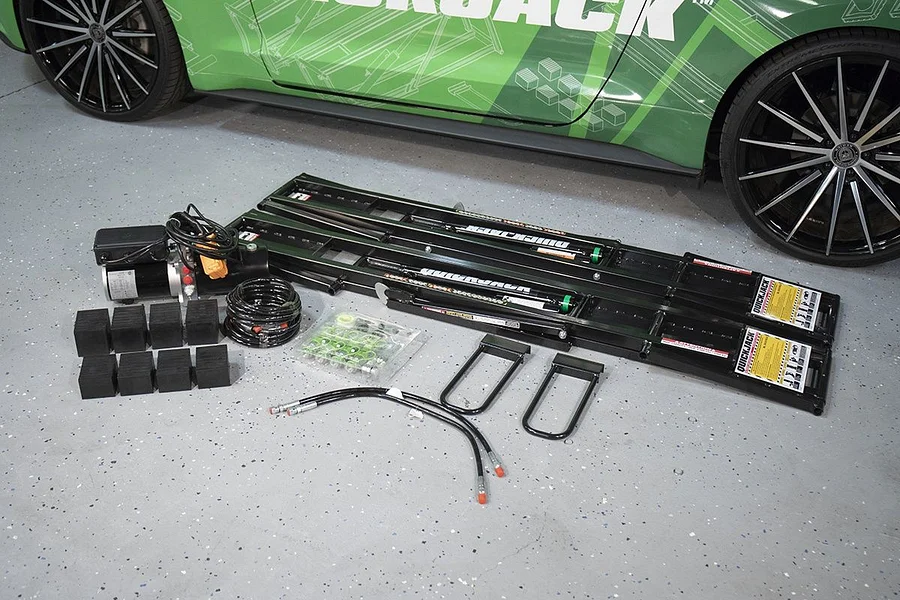 Specifications

Lifting Capacity
Lifting Capacity: 5,000 lbs. (2,268 kg)
Lowered Height
A – Frame only: 3″ (76 mm)
B – With 2″ block: 3.5″ (89 mm)
Lifting Height
C – Frame only: 20″ (508 mm)
D – With 2″ block: 20.5″ (521 mm)
E – With 3″ block: 21.5″ (546 mm)
F – Max. height: 24.25″ (616 mm)
G – With adapters: 23.5″ (597 mm)
H – With adapters + pin: 26.5″ (673 mm)
Lift Point Spread
I – Maximum: 60″ (1,524 mm)
J – Minimum: 37″ (940 mm)
Frame dimensions (ea.)
K – Width: 11″ (278 mm)
L – Length: 70″ (1,778 mm)
A – Height (lowered): 3″ (76 mm)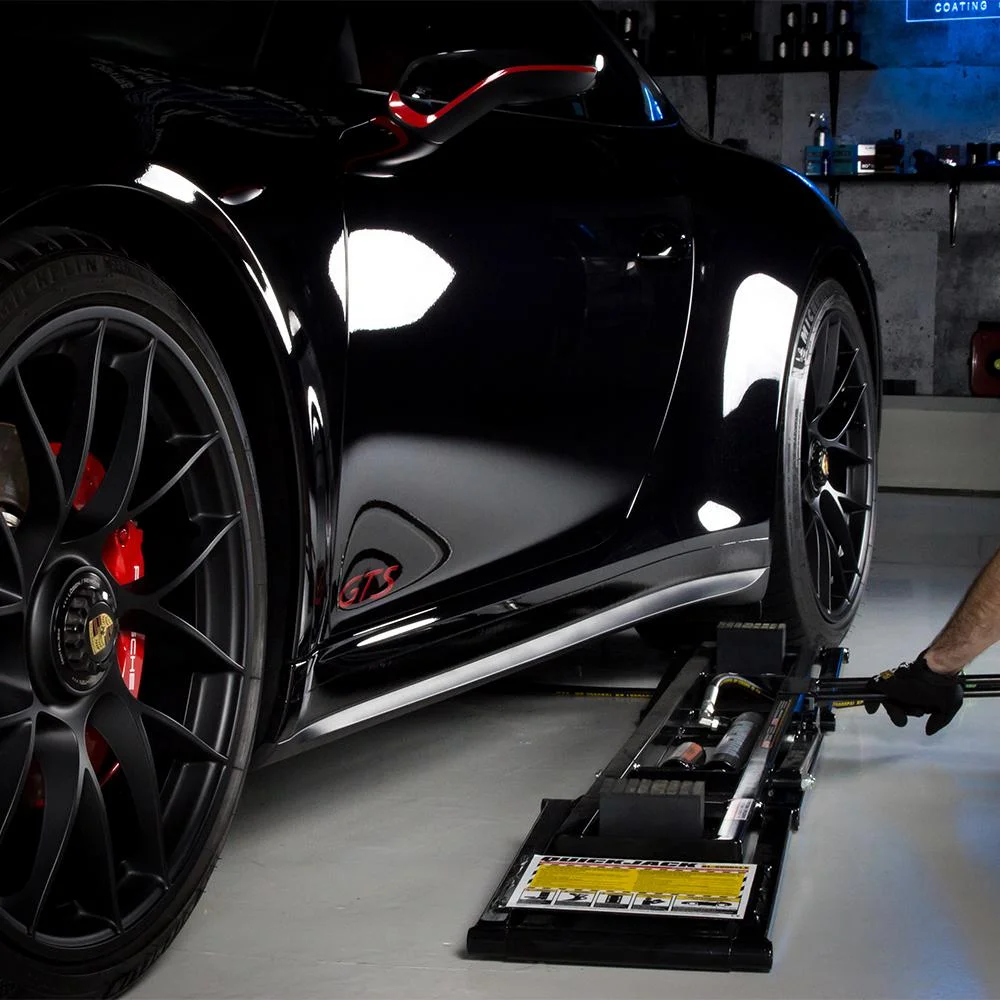 This is the car lift that many shoppers explore first, as it's more or less our "standard" size and model. It's extremely versatile, portable, lightweight-yet-rugged, and rigorously third-party CE Certified safe up to 5,000 lbs. Unless you have a light-duty truck or SUV (explore the BL-7000SLX and truck adapter set) or extremely small-wheelbase vehicle (explore the BL-3500SLX), this lift is probably for you.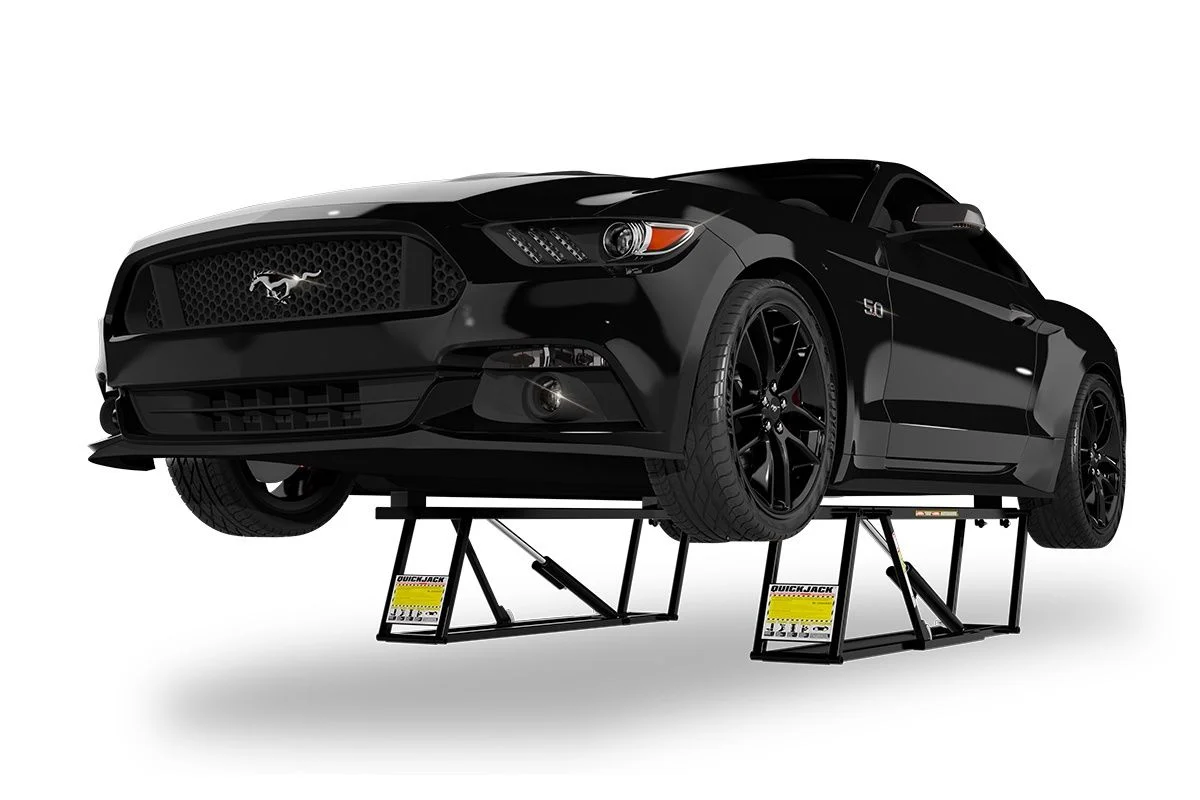 The BL-5000SLX is beloved by countless owners for use on their daily drivers and high-end sports cars like Ferrari, Mercedes, Porsche, etc. Trust it with your car, and trust it with your life! Rugged urethane wheels make it easy to pick up by hand and glide to your next destination; they make transferring your garage lift in and out of storage fast and pain-free. Since each frame operates independently, fluid pressure is controlled by a flow divider to ensure equal pressure in each frame. This eliminates the chance of uneven rise. Once both frames are locked in place, QuickJack provides open-center access that no other lift on the market can offer.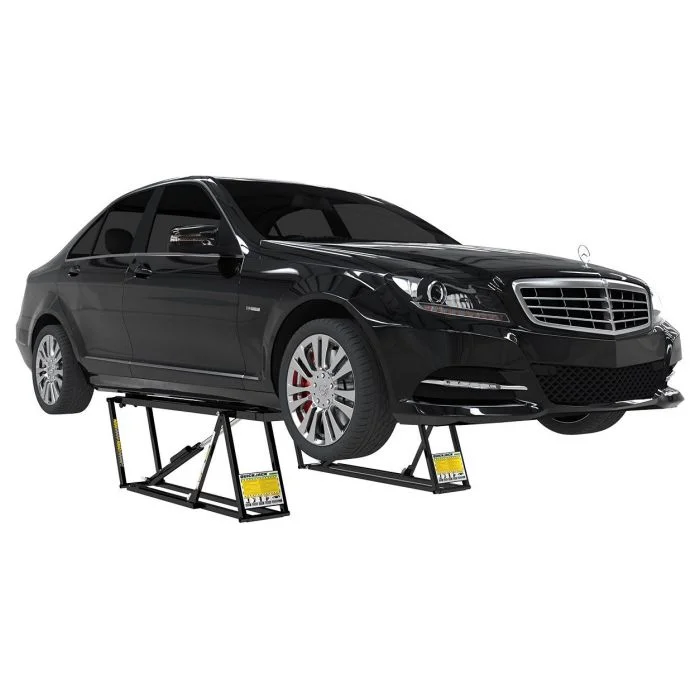 Features
Automatic safety locks
QuickJack 5000TL features automatic safety locks on each TL frame that engage at two positions. As the frames rise, these locks glide securely into place at mid-rise and full-rise. Disengage with a simple flip of the lock bar and your truck lift is ready for a smooth descent.
Increased lifting height
All QuickJack TL models are capable of lifting an extra 3-inches making it easier to perform vehicle maintenance tasks that are both routine and more involved. The extra room gives you more ability and versatility under the vehicle, while doing so in added comfort.
One-handed operation
Simple one-handed controls are really as easy as a push of a button to lift and lower your QuickJack 5000TL. No cranking or bending during lifting.
Accessories to increase versatility
Most QuickJack accessories were developed from customer suggestion and need. We offer many different lifting options and configurations to customize your QuickJack experience to fit your needs and specifications.
---

What's included with the BL-5000SLX Portable Car Lift System?
(2) ea. jack frame assemblies
(2) ea. 381 cm hydraulic hoses
(2) ea. 35.56 cm aux. hoses
(2) ea. frame handles
(4) ea. 4 x 8 x 10 cm rubber lifting blocks
(4) ea. 8 x 8 x 10 cm rubber lifting blocks
(1) 208-240V AC hydraulic power unit with pendant control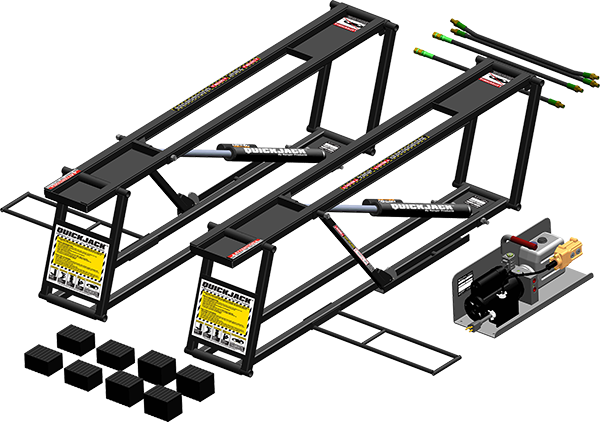 Reviews of the QuickJack Car Lift
I have them, best things I have bought in a while. Plus you can take it to the track.
Instagram Casey W.
Check out the new quickjack BL-5000XL. They extended the platforms. Works like a charm. – BSU That Quickjack does look like a winner!
Mike 9186
I have one of these, I very much like the ease of lifting, raises the car plenty high enough to put jackstands under, and I also leave them in place when they're all the way down, plenty of clearance to drive over. I like the wired remote, and the fact that they don't take up any additional garage space. Haven't transported them anywhere, but I like that option.
HTH, Derrick
Just wanted to throw this out there. Got a Ranger Quick Jack BL-5000. Its awesome. Well made, light and storable, and it works. Makes track prepping and other work so much easier. I don't plan on taking it out of my garage but you could.. What I like most is that each side is independent but works in sync. Most scissor lifts have something in the middle connecting them and that prevents you from lets say dropping the exhaust.
JDM
I bought this model and just got it together. Had an air valve on the cylinder leak (out the valve) and bought another one at the parts store and the company also sent me another one right away. I love it so far. I use pucks in stock location and the rubber blocks beneath the pucks. I just push each side inward to move the car and then move each side back out when I am going to put it up. for the money and for doing the light stuff I am doing, it is great and reasonably priced IMHO. We will see how long it take me to prep the car, I am sure it will be awhile the first time, but raising the car will not be slowing me down.
Bob N.
🔒 Safe & Secure Checkouts: We use state-of-the-art SSL Secure encryption to keep your personal and financial information 100% protected.
RETURN & WARRANTY
100% Secure payment with SSL Encryption.
If you're not 100% satisfied, let us know and we'll make it right.
WORLDWIDE SHIPPING✈